1. What is SDMX?
2. SDMX Tutorials and related Material
– 2.1. The Business Case for SDMX
– 2.2. SDMX in a Nutshell
– 2.3. General and Technical Tutorials
– 2.4. Practical Use of SDMX-ML for the Publication of Statistical Data
– 2.5. Further Capacity Building Activities
– 2.6. Mapping of Existing Training Material available with Capabilities and Tools -draft
3. SDMX Use Case Examples
1.           What is SDMX?
SDMX, which stands for Statistical Data and Metadata eXchange, is an ISO standard designed to describe statistical data and metadata, normalise their exchange, and improve their efficient sharing across statistical and similar organisations. It provides an integrated approach to facilitating statistical data and metadata exchange, enabling interoperable implementations within and between systems concerned with the exchange, reporting and dissemination of statistical data and their related meta-information.
It consists of:
technical standards (including the Information Model)
statistical guidelines
an IT architecture and tools
But SDMX is not just a format for data exchange. Taken together, the technical standards, the statistical guidelines and the IT architecture and tools can support improved business processes for any statistical organisation as well as the harmonisation and standardisation of statistical metadata.
The first version of the SDMX technical standard (1.0) was finalised in 2004 and approved in 2005 by the International Organization for Standardization (ISO) as a Technical Specification (ISO/TS 17369: 2005 SDMX). Version 2.0 was approved in November 2005. Version 2.1 was issued in May 2011. In 2013, SDMX was published by the International Organization for Standardization (ISO) as International Standard (IS) 17369.
The Information Model which forms the core of SDMX has been developed to support statistics as collected and used by governmental and international statistical organisations, and this model is also applicable to other organisational contexts involving statistical data and related metadata.
The statistical guidelines aim at providing general statistical governance as well as common ("cross-domain") concepts and code lists, a common classification of statistical domains and a common terminology. The first set of guidelines was published in January 2009.
Many IT tools have been developed to support the use and implementation of SDMX. Most of these tools are of an open source nature, so that they can be used as components for building IT systems in statistical organisations. Examples of such tools are the SDMX Registry, the Data Structure Wizard (DSW) and the SDMX Reference Infrastructure (SDMX-RI).
The work processes of SDMX are fully transparent: public consultations are conducted when major revisions are envisaged.
The first global SDMX data exchanges were implemented in 2013 by the seven sponsor organisations and covered National Accounts, Balance of Payments and Foreign Direct Investment. Many additional data exchanges are presently under development, both between international organisations and between international organisations and their constituencies.
Experience has shown that it is essential that senior management drives SDMX. Consequently, special care should be taken to properly describe and explain the business case for SDMX, and focus should be placed on the main advantages of using SDMX, i.e.:
facilitate data and metadata exchange
make efficient use of technologies and standards
reduce reporting burden
enhance availability of statistical data and metadata for the users
data reporting = data dissemination = data sharing (one data is reported only once and then shared widely using modern technologies)
The business case for SDMX is also explained in detail in a document called "SDMX Starter Kit for National Statistical Agencies". This document is very much focused on non-IT issues relating to the linkage of SDMX implementation to broader corporate initiatives that are usually embedded in strategic plans, statistical master plans, etc. Experience has shown that such a linkage is essential if SDMX implementation is to gain the interest of senior management in statistical agencies. This is why prominence has been attached to developing a clear business case for SDMX.
The "SDMX in a Nutshell" poster provides a general picture of the SDMX initiative.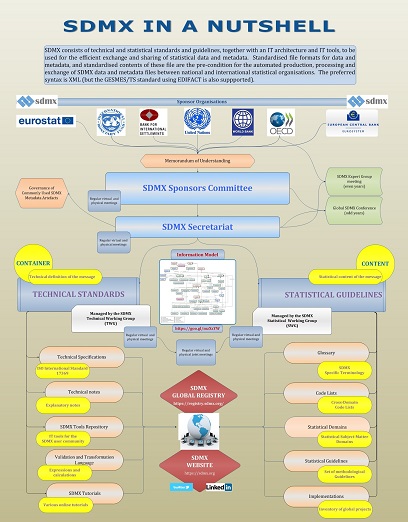 Click on the thumbnail for high-definition print resolution
This poster presents, in a synthesised way, two types of information:
The global framework in which SDMX operates. The document shows the interactions between SDMX and the three major statistical frameworks developed by the United Nations, namely the Generic Statistical Business Process Model (GSBPM), the Common Statistical Production Architecture (CSPA) and the General Statistical Information Model (GSIM).
The general structure and organisation of SDMX. The SDMX governance structure has three levels: Sponsors Committee, SDMX Secretariat and SDMX working groups. The SDMX Sponsor Organisations are represented by the head of their statistical function in the SDMX Sponsors Committee. It is the ultimate decision-making body. The SDMX Secretariat, which is comprised of senior experts from the sponsoring organisations, provides executive support to the SDMX Sponsors Committee and is the interface between the sponsors and the working groups. The SDMX Technical Working Group (TWG) and the Statistical Working Group (SWG) report to the SDMX Secretariat. They maintain, improve or further develop the SDMX technical and statistical standards. The work processes of SDMX are fully transparent: public consultations are conducted when major revisions are envisaged.
Eurostat, the statistical office of the European Union, maintains a website wholly dedicated to SDMX called "SDMX and metadata standards InfoSpace". It is an official section of the Eurostat website dedicated to presenting all aspects of the Statistical Data and Metadata eXchange (SDMX) process in the European Statistical System, as well as links to its more global context.
Information in the SDMX InfoSpace is structured in a layered manner, from general aspects to more detailed and technical explanations. This should help you find the level of information that suits your needs as fast as possible.
Explore the webpages and tutorials to:
Learn what SDMX is about
Learn why SDMX might be of interest to you and your organisation
Find out about where and how SDMX is already making a difference
Learn about the open-source software tools and validation services used in SDMX
Find out what training courses we offer
Find useful contact points for SDMX-related issues
More insight into the technicalities of SDMX can be found in the "SDMX User Guide". The principal intention of this guide is help organisations and individuals to determine how best to use SDMX so as to help them to improve the statistical production process. In order to achieve this objective, examples are taken from real implementation scenarios that enable the reader to understand the scope of the SDMX standards and guidelines vis-à-vis the activities required to collect, process and publish statistical data and reference metadata.
2.4.       Practical Use of SDMX-ML for the Publication of Statistical Data (Back to Table of Contents)
The website of the European Central Bank (ECB) offers a tutorial that introduces SDMX-ML using a practical example, i.e. the publication of the euro foreign exchange reference rates.
The tutorial looks at the technology from both sides of the fence: the side of the data provider ("How can we use SDMX-ML to publish statistical data on our website?"), and the side of the data consumer ("What kind of useful things can we do with an SDMX-ML data file?").
To make the most of this tutorial, a basic knowledge of XML and XML-related technologies, such as XML schemas, XSLT and SAX, is required. Some of the tasks described in the tutorial will also require the use of an XML-validating parser and an XSLT processor.
In odd years, the SDMX consortium organises SDMX Global Conferences. These conferences are generally organised in two parts: one where achievements and future developments are presented by the SDMX bodies and one for capacity building. It is also a major forum for listening to the needs of the wider statistical community. These conferences are publicly announced on the SDMX official website under "Events".
In even years, the OECD organises meetings of the Expert Group on Statistical Data and Metadata Exchange. These meetings are organised in a similar way to the Global Conferences, and are also announced on the SDMX official website.
The training offer proposed by Eurostat can be found at this address. These training sessions are open to people from countries outside the European Union.
The "SDMX Implementation Checklist to Manage a SDMX Project " presents a recommended step-by step approach to implement SDMX in a statistical domain.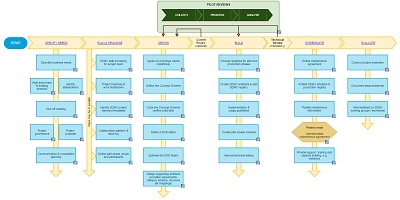 Click on the thumbnail for higher resolution
A LinkedIn page is also available to the SDMX community.
2.6. Mapping of Existing Training Material available with Capabilities and Tools -draft (Back to Table of Contents)
The SDMX Sponsor organisations are currently developing the SDMX Capacity Building Strategy which aims at improving the SDMX training cycle from design to delivery. In order to achieve this goal, and based on the identified capabilities, the existing SDMX training material has been grouped by capabilities and/or tools that are covered by them.
The early draft mapping will continue to be developed with existing training material not covered at this point as well as the identification of new capabilities. To access the excel file please click "here"
Some "visualisation applications" based on SDMX can be accessed via the links below:
The "Our statistics" website of the European Central Bank and the national central banks of the Eurosystem: the site aims to facilitate the understanding, use and comparison of euro area and national statistics. It gives a visual presentation of the statistics, uses user-friendly terms and is available in all official EU languages.
International Monetary Fund Data Mapper: an application for plotting and comparing data from different countries and regions.
European Central Bank ECBstatsApp mobile application: offers predefined data visualisations in a number of sections, e.g. key euro area indicators, government finance, exchange rates and prices.